Wednesday, December 26, 2007
Day After Christmas

The girls and I had a lovely Christmas. My son decided to spend the holiday with my parents - a bit of a disappointment to me, but then again it was nice not having to listen to him yell and complain the last couple of days. Everything irritates him and he doesn't hesitate to let us know. It is incredibly annoying.
The girls were very happy with what they received. Which in turn makes me very happy! The little one played, the older one also played and then went out for a bit with her un-boyfriend, and I napped and stitched. A very pleasant and relaxing day. Today I shall straighten up the mess!
I have once again been a bit neglectful about posting my WIPs.
First I did some work on Frog Prince. Between being sick and Christmas stuff taking up my time, I didn't get much done. And most of that was black. Which was actually good since I wasn't feeling well enough to do much concentrating!
Link to chart
I also worked on Fairy Moon. Only for a couple of days, though, since I really wanted to get started on Dragon Skies!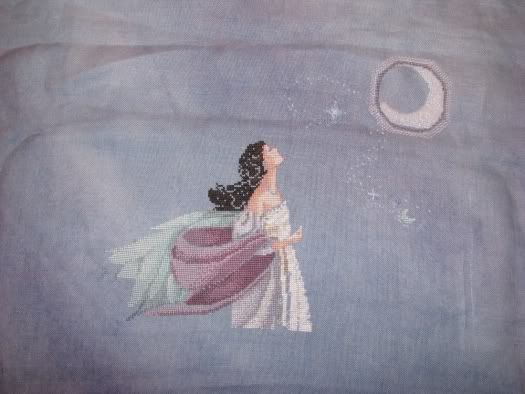 Fairy Moon
Mirabilia
Full cross, one over two on 28 count Blues Cashel linen dyed by
Sugar Maple Fabrics
44% complete
0 Comments: