Wednesday, October 25, 2006
Book "review"

I finished Crossing the Line by Karen Traviss and enjoyed it just as much as the first installment in this series. I wish I could do better at reviewing books and movies, but I find it difficult to articulate why I like or dislike something. I shall try anyway.
This is a good science fiction book for fantasy readers. The fact that it is set on a planet trillions of miles from earth and includes space flight, bombs, aliens, and bio-chemical warfare is really the only thing that places it in the sci-fi category anyway. I wouldn't call it a space opera, though. Humans as a species come off looking pretty bad, and the really sad thing is, I find the sequence of events quite credible. I'll be picking up the third and probably fourth books (of a predicted six total) as quick as I can, since I really want to find out how the events at the end of the book resolve themselves. A hint if you choose to read these and don't like spoilers -- don't read the blurb for the fourth book until you finish the third.
So that is my lame attempt at a book review. I could, of course, do a synopsis of the plot -- but if you're interested in that you can always find it on Amazon. Let me know what you think if you decide to read the series (which starts with City of Pearl, btw).
On the stitching front, I ended up starting Broken Angel for the SAL. Not one of my poll choices, which I feel a bit guilty about. I've got Red Dragon in mind for my next start. I didn't get as much progress done on Bubble Flower as I had hoped and have yet to take a scan. I had thought maybe I would work on it some more when I'm tired of Broken Angel since I really wanted to get to the detail of the man and horse in that upper left bubble, but not I'm not so sure. It feels like going backward to me. Silly, I know, but there it is. Here is an image of my progress on Broken Angel at the end of the SAL: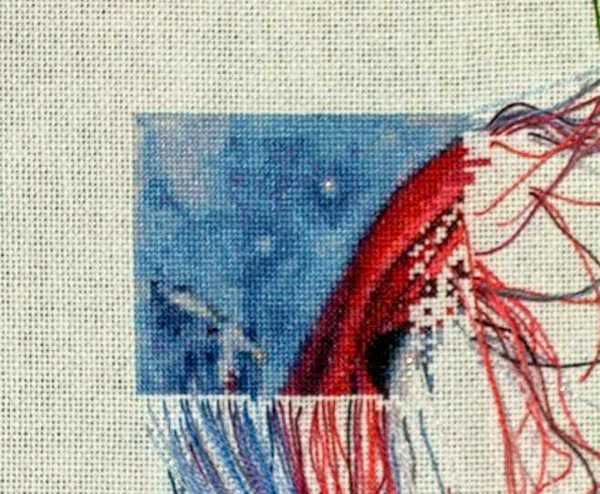 I've gotten a bit more done since this was taken and hope to finish up the top half of page one (which includes her left eye!) tonight. I might stop there and move on to Red Witch. Or I might just keep going. We'll see how much I get done tonight.
Labels: Book Reviews, Broken Angel
Wednesday, October 18, 2006
I am so fickle

Thanks for the votes on what I should stitch for the HAED new start SAL. I was all set to start on Red Dragon, but then I started overthinking it again and, while I dearly love Red Dragon, there won't be much more than a blob to show after the weekend and I'm a bit weary of posting big blob WIPs. So I'm thinking perhaps I'll start a quick stitch. Which of course requires making another decision. I've put all the ones I'm considering on a Notefish page, which you can visit
here
if you are so inclined.
Notefish is my new on-line plaything. I'm very much into making lists of things and researching before I make a decision. I haven't had much of a chance to work with it yet and am excited about using it for the kid's Christmas lists. Yesterday I even told my son to use it to set up his list. He always makes me a text file with items and where to get them at the lowest prices, but he never considers the cost of shipping or promotions in his figures and so I end up have to look for myself anyway.
Woo hoo! I'm off to play!
Sunday, October 15, 2006
Beneath the Vaulted Hills

I finished Beneath the Vaulted Hills and really enjoyed it. I had some trouble getting into it at first, since it's not exactly action packed, but all the mystery drew me in. I like books that don't spell everything out for you and keep you turning the pages to try to figure out what is
really
going on. It seems the sequel is out of print, but fortunately I was able to pick it up from Half.com for a reasonable price. Just waiting for it to arrive. In the meantime, I'm reading Crossing the Line by Karen Traviss, sequel to City of Pearl which I enjoyed very much. Some interesting ethical-type questions presented in that one.
I've decided to extend my stitching time on Bubble Flower another four days. I've finished the first 33 rows across the first 90 columns and I've decided to continue on down the first page. I'm anxious to see the detail in that bubble!
Labels: Book Reviews, Bubble Flower
Wednesday, October 11, 2006
Decisions, Decisions...

I need to decide which HAED design I'm going to start for the new start SAL which begins October 20. I have it narrowed down to three, but am dithering between them.





Tuesday, October 10, 2006
ACK!

Where is my blogroll? How am I supposed to feed my blog addiction without my blogroll? This is not good, not good at all.
Saturday, October 07, 2006
I've Been Busy

I've finally finished my new blog template! It took a couple of months, once again learning as I go. I might have to pare down some of the visuals, though. I'm on broadband, so it loads pretty quick, but those on dial-up... is it horrifically slow? Plus, well, I worry that most people might find it a little bit busy. I do like blinky, sparkly things! Any comments on the new set up would be most appreciated -- even negative ones.
I've also got a page up on my web site for finished works. So far I only have my two recent finishes on there, but it's a start.
I also have a WIP to show. Here is Blue Rose Sampler by Nostalgic Needle:
I had hoped to get to the end of the band, but just couldn't do it. I can only work on these non-HAEDs for so long, you know. I'm stitching this with DMC using 2 threads over 2 on 34 count Fawn Weddington linen. Very good coverage, but the queen stitches in flowers 2 and 4 were a bitch.
Can anyone tell me how to put a nice little box around my pictures? I thought I figured it out, but it only works in Firefox.
Labels: Blue Rose Sampler