Thursday, April 24, 2008
Preliminary Days of Advent Sampler

Here's a peak at my
Days of Advent Sampler
. I'm using my own conversion from the NPI to Vicki Clayton silks and after starting I found that the greens I had chosen just weren't going to work. The colors looked great, imo,
but there was hardly any contrast between the ivy green and the leaf green. So back to the drawing board on that. I also haven't quite finalized the grays and the reds/pinks. The color I had picked for the pinkish color was much more purple than the sample tag I have. The color is lovely and I'd like to use it, but it simply won't do for the town walls in block 11. I also had a bit of trouble with the golden browns and brown -- again not enough contrast. The browns I decided on are quite a bit darker than the NPI, but from the little I was able to work with them, it's looking like they will work.
I had moved on with my rotation while waiting for the new threads to arrive and haven't decided yet whether I'm going to pick it up again when I get to the end of this rotation (which will be in the next couple of weeks) or wait until it comes up again in the normal course of events.
Sunday, April 13, 2008
And another

Pretty much every time I work on a piece it temporarily becomes my favorite. But I have to say
Dragon Skies
has to top the list. Her face and that little bit of hair took me two days to stitch up, but it certainly was worth it. Isn't she beautiful?
As promised, another pic

Here is
Fairy Moon
.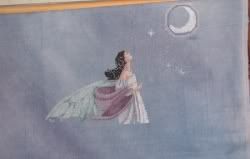 I only worked on her for two days and on the second day I discovered that I had been using the wrong color on one of the symbols! After frogging and re-stitching I just didn't have the heart to continue, so I put her away until next time.
Saturday, April 12, 2008
So much to share! So little time to do it!

What have I been doing? Oh, my. I've done quite a bit of stitching. I decided to switch Frog Prince out of the rotation for now and replace it with
Pirate and Mermaid.
I love the artwork -- it reminds me of my curly-haired youngest daughter who is most enamored with frogs. But it is stitching up much too dark for my tastes. I'm keeping my eye on someone else's progress to see if maybe it's just the usual HAED phenomena of needing the surrounding details for the whole thing to work.
I've also worked on Fairy Moon, Dragon Skies, Days of Advent Sampler (still working on the colors on that one), and Cirque des Circles. Plus I finished the Stars and Moon baby sampler for my sitter's daughter. I'm hoping to get cracking and have some updates posted before another month goes by!
In other news. I finally heard from the Court regarding the child support modification the ex requested. I was a bit annoyed because the Commissioner gave the ex more credit than he deserved as far as being a somewhat decent person and whatnot. But then I imagine it's difficult to get the full measure of a person during a 30 minute hearing. Particularly when all they are is a voice over a speaker phone. He did attribute earnings to the ex as I requested but used the median salary of his current profession, rather than what he was making before he started quitting jobs willy nilly. Which coincidently coincides with when I first filed for child support. Still, better than a sharp stick in the eye and the reduction wasn't quite so severe as it could have been.
I also broke down and purchased a new computer. The old one was refusing to boot up correctly. I think it was because of a virus. I installed a better scanner which found 48 virus files, including one very active one that was trying to mess with my system every 10 seconds. And now it seems to be working okay. My son's problem now since he inherits the old system (and has been forbidden to install ANYTHING on the new one).
And now I have done my duty as I see it and am going to start work on Bubble Flower. Provided I can stop obsessing about computer keyboards long enough!