Friday, July 27, 2007
I am so glad this week is over

And I hope I don't have another like it anytime soon! First I've been stressing over the whole truancy thing. My son's girlfriend's mother is an attorney who works for one of the state courts so I asked her about it on Monday. The basic idea I got from her was that the schools don't really have to adhere to code. I tried to contact the visiting teacher, but of course she's off for the summer. I even went so far as to call her on her cell phone (which required guessing at the last number since it got cut off when copied -- and yes, it turned out to be 9). I left a message. Perhaps the whole mess will be a blessing in disguise. Maybe I'll finally get some help from the school to actually solve the problem!
Plus on Saturday I learned that my cell phone provider has filed for bankruptcy. A big bummer since I have to do prepaid (although I don't know if I'd have a contract even if I could) and the provider was excellent -- 10 cents a minute and cheap web access. I think I've finally got that all ironed out -- the per minute rate is actually better and minutes are good for 160 days. No web access, though. And it's still possible my phone will be deactivated by Verizon. A big annoying mess. But on the plus side, I finally managed to get the phone in my house working on my new account. Which was active as of 6/15. I had to take time off work only to discover the repair man had already been there and didn't even need to get into the house. Because the FIOS just had to be hooked into the phone line EXACTLY as I told them. More than once.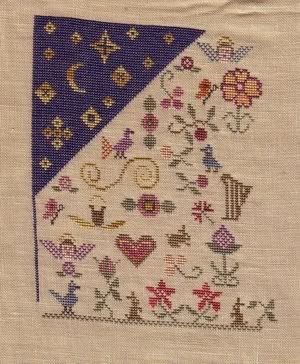 I did get through most of the first page of Heaven Above, though.
Wednesday morning I saw my doctor. I finally got the blood work he had requested over a year ago done and I am "on my way" to being diabetic, my cholesterol is high, I might or might not have an infection, and my blood count might be low. Basically, I'm either really sick or just one of those people who is a bit outside the normal parameters. I was chastised for quitting the Paxil, but he agrees that perhaps it was keeping me too sedated. So he put me on Wellbutin. I told him I felt much better without the drugs, but I guess he didn't totally believe me. Ah, well. I'll try to remember to take the stuff and it's 1/2 of the normal dose, so maybe it'll be enough to take the edge off without shutting me down.
And now I'm tired of reliving the whole thing. There's more, but those are the highlights.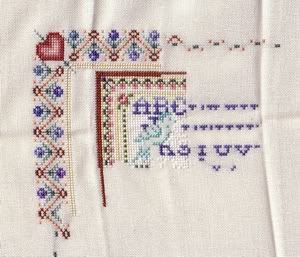 Let's leave it at that! I'm going to start work on Angel of Cross Stitch. Here's a picture of what I have completed so far. Not much. I hope those wrinkles in the fabric haven't become permanent. It has been a
very
long time since I've worked on her. I'm not quite sure how I'm going to handle the threads for her. Normally, I put all the threads on Lo-Ran cards (or something similar), but I'd need 9 cards for this project! Hmmm... must ponder...
Yes, I do believe I have lost my mind.
Sunday, July 22, 2007
The Tower of Stony Wood

2,500 more stitches on
The Tower of Stony Wood
. The picture doesn't come close to doing it justice.
I've decided to work a bit more on Heaven Above rather than starting Memorial Sampler.
Labels: Tower of Stony Wood
Saturday, July 21, 2007
Legal Advice?

Bureaucracy chaps my ass. I got a summons today that I am being charged for failure to send my child to school for 17 days between 9/11/06 and 6/5/07. What?? I am so beyond annoyed. The schools can't manage to hire competent teachers, but they do have a full time "visiting teacher" whose sole responsibility is to check on students' attendance, harrass parents at work, and send letters. And then wait an entire month after school is over to file a criminal complaint?

I will be the first to admit that I've had trouble getting my daughter to school and I'm frequently late. My own attendance at work is pretty bad. I am well aware it's a problem and I'm dealing with it the best I can. A lot of it has to do with my mental state and the lack of a support network. Quitting the Paxil (almost, I'm still taking about two pills a week, and am going to talk to my doctor when I see him next week), has helped tremendously. I haven't had to call in sick because I couldn't get out of bed for over a month! Which is good, because it had started to become a bi-weekly thing.

Now that I've vented a bit of my annoyance, let me get on to the legal aspect.

I am being charged with a violation of DE Code 14, Section 2702(a)(2) which states:

§ 2702. Compulsory attendance requirements; evaluation of readiness [Effective until fulfillment of the contingencies in 75 Del. Laws, c. 440, § 8]

(a) Except as otherwise provided, the following provisions are applicable to school attendance in this State:

(2) Every person who has legal custody, guardianship of the person, or legal control of a student, including any person acting as a caregiver pursuant to the provisions of § 202(f) of this title, who is enrolled in a public school of this State shall send the student to the school each day of the minimum school term and to any academic improvement activities required by § 153 of this title.

Okay, quite vague really. Then we have this:

(d) The following provisions shall be applicable in regard to statewide minimum mandatory attendance requirements in each school year for children in grades K through 5.

(1) Following the 10th day of unexcused absence by a student, the school shall immediately notify the parent(s) or guardian and a visiting teacher for the district shall visit the student's home;

(2) Following the 15th day of unexcused absence by a student, the student's parent(s) or guardian shall be notified by certified mail to appear at the school within 10 days of notification for a conference and counseling;

(3) Following the 30th day of unexcused absence by a student, the school shall refer the case for prosecution;

(f) If contacted by the school pursuant to paragraph (d)(2) of this section, each parent or guardian of a student shall sign a contract with the district agreeing they will make every reasonable effort to:

(1) Have their child or children abide by the school code of conduct;

(2) Make certain their child attends school regularly; and

(3) Provide written documentation for the reasons for any absence.

So what I want to know is, since state code says the school shall refer the case for prosecution after the 30th day of absence, can I even be charged? And also does it matter that the school didn't follow the procedures listed above? The school district has it's own attendance policy, which doesn't follow the above at all. Their policy uses denial of credit as a penalty. But my daughter passed and I never received anything other than the "you're so bad" letters and phone calls at work. The bad attendance hasn't affected her grades -- she finished the year with straight A's.

So now I'm going to go take her to see Shrek the Third and try to forget about this nonsense.
Tuesday, July 17, 2007
Heaven Above

Here's my start on Heaven Above.
After trying three different fabrics that I had on hand, I settled on the 40 count Lakeside Linens Examplar that I had originally started the Days of Advent Sampler on. It's darker than I'd like, but I just couldn't afford to spend any more. The colors show up quite nicely and that's really the most important thing.
Labels: Heaven Above
Saturday, July 14, 2007
Truncating Rotation

I'm going to stitch memorial samplers for my sister-in-law and my parents and I'm hoping to have them finished by Christmas. Since the chance of me working on a single project until it is done is pretty slim, I've decided to change my rotation. It will now work like this:
1.
Heaven Above
2. The Tower at Stoney Wood
3.
Memorial Sampler
4. My choice
Labels: Rotational Theory
Monday, July 09, 2007
Not a thing about stitching

Fortunately, the report of my father's death was greatly exaggerated. He's alive and doing well, all things considered. The weekend was difficult, but we all got through it. I was able to spend some time talking to each of my other brothers and sisters, which doesn't usually happen amidst the hub-bub of my infrequent visits to my parents' house. I've learned that I need to really make an effort to join in the family celebrations. I do not want to lose another sibling only to learn what a fantastic person I never really got to know.
Wednesday, July 04, 2007
Days of Advent Sampler

I'm being totally flaking and decided to stop working on Days of Advent Sampler and move on to the next item in my rotation. Here's what I got done:
The colors do look brighter on the lighter fabric. Which is good. I decided to stop because I reordered the threads from the "05" dye lot that the way-off blue skein came from and I didn't feel like stitching around blank spots.
I got another shock today when I read my brother's obituary and see my father named the "late Thomas... ". I'm sure it's a big whopper of a mistake since I got an e-mail from my dad yesterday that he wrote around 4:30 p.m. No one is answering at their house, but I talked to my sister and she hasn't heard anything. Still, a wee bit disconcerting. Although I imagine the ribbing that will ensue may help ease things on Friday.
Labels: Days of Advent Sampler
Monday, July 02, 2007
Pirate and Mermaid

Thank you for the condolences. Even though a day has gone by, I don't think the full impact has hit me. I'm dreading the funeral because that will make it all real. I'm the oldest of eight children and it's been a while since all of us were together. It is going to be horrible being with everyone and know that he will never be with us again. And even though I don't keep up with my siblings (that is my mother's job!), I love them all dearly. And I hate that he's gone.
I've started back on my rotation where I left off when I started The Tower at Stoney Wood and have been stitching on Pirate and Mermaid since Saturday night. Working on it yesterday was very soothing.
I started working up the web page for it, but then I decided it was taking too much effort and put it aside. I may get it up in the next couple of days though.
I didn't work on it for the full four days because I'm running out of 210 and I started to get ansty. I'm going to restart the Days of Advent Sampler, since I don't like the fabric, and am hoping to get the Adam and Eve block done by Wednesday. It's silly, but it seems important that I finish up with the rotation slot before I leave. And then I'll take Quaker Garden with me when I go up to my folks. Out of order, but it's small, easy, and I won't have to worry about running out of threads while I'm there. I think I might be fixating on this a little bit...
Sunday, July 01, 2007
Forever changed... life goes on

My brother had a fatal car accident yesterday evening. We weren't close and it's kind of sad that I'm not even sure how old he was. 36 maybe? He was always different from the rest of us, in today's world he would have certainly been labeled
ADHD
. We used to call him Matt the Rat. He drove me crazy when we were kids, he was a rascal but he was also generous and kind. Another brother pointed out that he went the way he would have wanted -- driving a Corvette. For whatever reason, he's in a better place now. I grieve for his wife and three step-sons.
And I have an update of The Tower and Stony Wood. I did manage to get all the way across yesterday.
Labels: Tower of Stony Wood