Thursday, November 30, 2006
Rose Fae

I'm trying to stick to my 4 day rotation rule this time around, that last round seemed to last forever! Here is an updated pic of Rose Fae:
Click
here
for details. This one is a lot of fun to stitch -- particularly following Bubble Flower! Not so much confetti to wade through.
I've been feeling a horrible itch to start some new projects. I'm restraining myself since the ones I really feel pulling at me aren't fully kitted (why do my whims always seem to work that way??) and right now all my extra cash is going towards Christmas gifts for the kids. After Christmas though I think I'll spend a child support check on stash. Shhhh! Don't tell my ex, seeing how he
forbid
me to spend any of
his
money on cross stitch. Hahahahahahahahah HAH!
This is what started the itch:
Ink Circle's
Cirque des Cercles
stitched on black with DMC varigated gold #111 by Marc Davis. I had absolutely no interest in stitching this design until I saw this. Isn't it gorgeous? I realized it is perfect for the Waterlilies
Fraises du Bois
I've been wanting to use for something, but couldn't find anything that "fit". I'll stitch it on either teal Dublin linen or Picture this Plus
Crystal Shadow
Cashel. I can't wait to get started -- and since I have a skein of the thread and the fabric I might just break down and order the pattern now.
Labels: Cirques des Cercles, Rose Fae
Sunday, November 26, 2006
Arts Taking Center Stage

Program at Sussex Central Proving to be Very Popular
This article is about the school my two older children attend. My son played Don Pedro in the production of "Much Ado About Nothing" and there is a picture of his back in the article. Although his name is not "Ron Pepper". I wonder where that came from?
He also landed the male lead in "A Doll's House".
Saturday, November 18, 2006
Bubble Flower

I decided to work on Bubble Flower for the "anything goes" slot in my rotation. Here is an updated image, which contains stitching I did during the previous rotation that I never got around to scanning. Details
here
.
Labels: Bubble Flower
Sunday, November 12, 2006
Scent of Enchantment QS

...is finished!
For details, click
here
.
I haven't completely worked out the next round in my rotation, so I'm not sure what I'm going to work on next. This slot I get to choose whatever I want and I was going to work on Pirate and Mermaid to get away from the yellow-orange-brown colors I've been working with the last couple of weeks. But then HAED had a sale and I bought Tears of Luna, so I decided I'd start that. But now I don't feel like doing the prep work. I would just wait until tomorrow, but I finished SoE before I could watch Return of the Jedi, and I really would like to complete my Star Wars marathon today. If only all my problems were so simple!
Friday, November 10, 2006
A good day today

I had a really good day today. The sun was shining and the temp got up over 70. Constant stream of people submitting applications (finally!), so I was busy but not overwhelmed. I got permission to bend the rules a little bit for someone in a bit of a rough spot and that made me feel really good. Plus she thanked me profusely and called me an angel, which didn't hurt.
HAED is having a sale so I ordered Ravencroft's Tears of Luna and it was in my inbox when I got home.
Should be a lovely weekend as well. Good weather tomorrow and other than taking my teenagers to the school tomorrow morning and doing a load of laundry, I have nothing else pressing to do. AND Pirates of the Carribean 2 is now showing at the $3 theater so I may just treat my youngest to dinner and a movie.
I'm off to stitch now -- hoping to finish Scent of Enchantment tomorrow -- and watch some of the many,
many
movies I recorded today.
Thursday, November 09, 2006
Best Laid Plans...

I had hoped to be get a lot of work done on Scent of Enchantment during this chopped-up week, but alas, it was not to be.
Tuesday I slept in. When I got up I spent a few hours trying to find stuff to do on the computer which didn't involve either working on my stash database or webpages. Then I went out and voted and did some shopping. I stitched for a bit after that.
Today I went to the cable company and picked up the DVR box that I've been waiting over a month for. Much idiocy ensued as I was setting it up. Normally, I am very good at that sort of thing (I once had a TV/Cable/VCR/DVD/stereo set up with an AB switch
and
an ABC switch so I could record regular TV while watching cable and vice versa). And I really didn't have any trouble hooking up the cable box. It was more that the cables I was using that I thought led to the TV and the incoming feed were actually going nowhere. I discovered the TV wasn't hooked up pretty quickly, but it took me a bit longer to check on the other. Fortunately I did check before I called (I actually had the phone in my hand).
And since I spent so much time messing with that, I decided to clean up all the connections (my VCR is hooked to the TV again, Randi will be happy!). Then I decided I might as well organize the big jumble of cords that connect to the N-Cube and the X-Box. And since I was doing that I figured I might as well fix the door on the TV stand that won't stay closed by installing the lock that came with it. Well, the lock didn't work, but I stuck one of my earth magnets on the metal thing in the cabinet that the other metal thing on the lock is supposed to go behind (but doesn't) and that did the trick.
I'm feeling quite proud of myself. No stitching done, but at least those !!! DVDs won't keep falling out of that cabinet anymore.
And now I shall end my post and go watch a movie that has
already started
*gasp* !
Sunday, November 05, 2006
Red Witch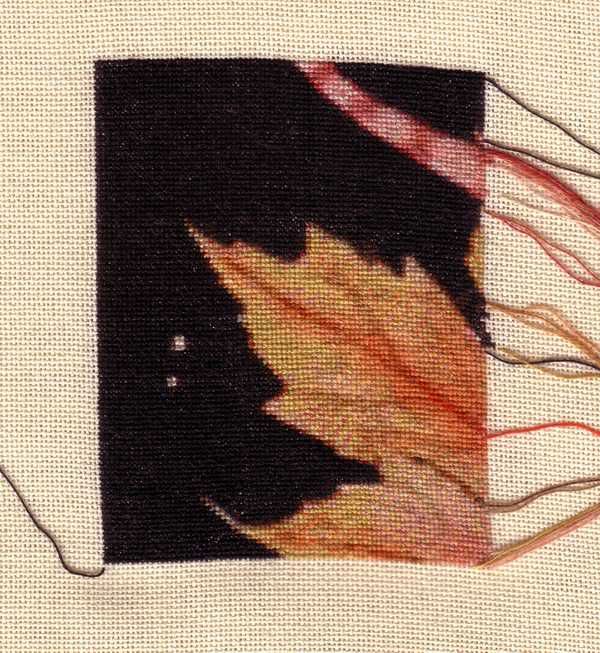 After a marathon stitching session last weekend, I decided to go ahead and finish up the first page on Red Witch. Which took the rest of the week and was rather frustrating at times since I couldn't seem to put my needle in the correct place. I'm not sure that the top line against the black on the second leaf is even close to being the right colors. I was so annoyed I didn't much care and it looks okay, so I left it. Ironically, I think part of the problem was working with the chart enlarged 210% rather than the 140% I normally work with. I would have thought that bigger would be easier, but I guess not.
I started on Scent of Enchantment quick stitch last night. I can't wait for this round of my rotation to be over, it's taken far too long! I probably have another week to go since I plan to finish Scent of Enchantment and have all but the first column and a wee bit of the second to do. Fortunately it is a very small design -- only 60 x 100 -- not even a page really. Hopefully, I'll be able to get it done by the weekend since I have election day off and, due to
Return Day
and working an extended shift a couple of weeks ago, I'll also be off on Thursday.
Labels: Red Witch