Sunday, December 30, 2007
Cirque des Cercles

I only worked on this a couple of days, but got the top row of circles done. The skein I started this with turned out to be a bit different than the ones I ordered later. I like the later ones better -- they are much more vibrant with lovely shades of blue and no brown. Hopefully the difference won't impact the final piece too much.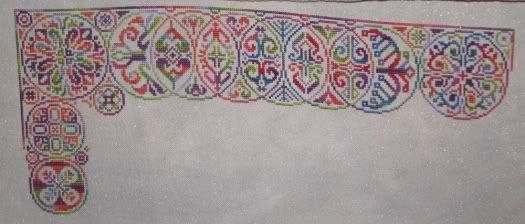 Cirque des Cercles
Ink Circles
Full cross over two on 32 count
Silkweaver
Precious Metals Reflections Lugana with two strands of
Thread Gatherer
Silk N Colors Kaleidoscope floss
22% complete
Thursday, December 27, 2007
Dragon Skies

It seems like I had to wait forever to get this one started! I decided on
Silkweaver Starquest
on 25 count opalescent Lugana. The fabric isn't quite what I expected, but then it never really is anyway. Regardless, the fabric
is
beautiful and the design should look fantastic on it. I haven't decided for sure yet whether I'm going to stitch the dragonflies. Probably not, but seeing how I'm so fickle anyway that could easily change!
Link to chart
Wednesday, December 26, 2007
Day After Christmas

The girls and I had a lovely Christmas. My son decided to spend the holiday with my parents - a bit of a disappointment to me, but then again it was nice not having to listen to him yell and complain the last couple of days. Everything irritates him and he doesn't hesitate to let us know. It is incredibly annoying.
The girls were very happy with what they received. Which in turn makes me very happy! The little one played, the older one also played and then went out for a bit with her un-boyfriend, and I napped and stitched. A very pleasant and relaxing day. Today I shall straighten up the mess!
I have once again been a bit neglectful about posting my WIPs.
First I did some work on Frog Prince. Between being sick and Christmas stuff taking up my time, I didn't get much done. And most of that was black. Which was actually good since I wasn't feeling well enough to do much concentrating!
Link to chart
I also worked on Fairy Moon. Only for a couple of days, though, since I really wanted to get started on Dragon Skies!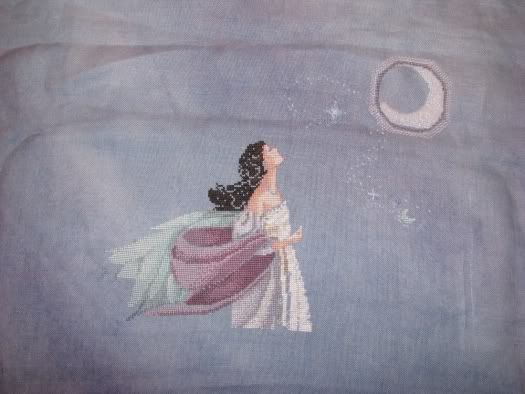 Fairy Moon
Mirabilia
Full cross, one over two on 28 count Blues Cashel linen dyed by
Sugar Maple Fabrics
44% complete
Monday, December 17, 2007
Jewel of the Sea

I've loved this since the first time I saw it. Such lovely blues!
Link to chart
I discovered yesterday that my son managed to infect our computer with some new virus, packed.morphine.d. There doesn't seem to be much information about it yet, so I have no clue what it's going to do. So far the only problem we've had is a pop-up from the virus detector whenever we try to use Windows to open a folder. I'm hoping that's all the problem we'll have -- since I go days without ever doing that. And I didn't have a problem today when I opened the printer to clean the print head. Although, that could be an ominous sign in itself! Regardless, I backed up all the cross stitch patterns I have on my hard drive. Which goes to show how crazy I am, since that is all I backed up (other than my budget, Christmas list, and rotation files). If I could get my stupid DVD burner to work I'd start burning the 8 years or so of pictures I have.
Thursday, December 13, 2007
Quick Update

Wednesday, December 05, 2007
Quaker Garden

Boy am I glad this one is finished! A plague of frogs and myriad mistakes, including a doozy that I made within the first 100 stitches and didn't discover until way past the point of no return. Nevertheless, the design is still mighty pretty. So here it is in all it's imperfect glory.
And I will never work with Weeks Dye Works threads again. I had to use incredibly short (about 6 inches) lengths and still had trouble with the thread shredding.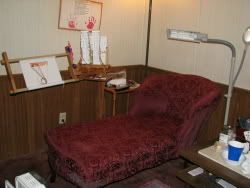 Someone asked about my stitching area. So here is my little corner. I have a horrible time keeping boys and cats off my chair. My son continuously torments me about it. He plans on having friends over on his 18th birthday and has informed me that every single one of them is going to SIT IN MY CHAIR (naked -- which rather frightened my daughter). On the bright side, with all the hoopla over the chair, he forgets how annoyed I get when he TOUCHS my STITCHING.
Monday, December 03, 2007
Happy birthday to me!

So I bought it and started it!
Link to chart
This one is a lot of fun! I really didn't want to put it up, but it's time to move on. Next up is Quaker Garden. I'm hoping to finish it, but we'll see how that goes.
Saturday, December 01, 2007
Revelation - Sheila Wolk

I probably would have gotten more done if I hadn't wasted 2 days on trying to tent stitch! I don't know why I keep experimenting with fabric -- I always end up back with the 25 count Lugana (and I've also found 28 count to be tolerable).
On a non-stitching note. Why is it so hard to find something in the US to do jigsaw puzzles on that doesn't require you to roll it up? I ordered a
Puzzle Center
from Bits and Pieces and I was quite excited to get it. Now I see they are unavailable and if the charge to my credit card is any indication, they didn't send me one. I'm bummed.