Saturday, March 15, 2008
Day Dreaming Mermaid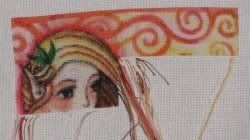 I love the way she is stitching up! This is another example of how my tastes change. When HAED first charted Ching-Chou Kuik's artwork, I didn't really care much for it. There is just something off about those tiny little mouths and huge eyes. But after seeing how her work stitched up, her designs began to grow on me. I'm so glad they did because this mermaid is so much fun to stitch!
I'm reworking my rotation a bit. I'm dropping Morning Dew and adding Days of Advent Sampler. I love the colors in Morning Dew and the flowers are so pretty, but the fact of the matter is I don't enjoy working on it very much, probably because I'm doing it on Aida. It's one of the first things I started and I just used the fabric that came with the kit. If I was to do it over, I'd switch that out for an evenweave, but now it's too late for that.
I'm adding Days of Advent Sampler. I converted the NPI to Hand Dyed Fibers -- that sample book was certainly well worth the investment! I wanted it brighter, and I'm eager to see how my color choices work out. I haven't decided on a fabric yet. I'm going to do a floss toss with the fabrics I already have, but I'm kind of leaning toward
Silkweaver's Porcelain
. I'm somewhat reluctant to order another fabric for this sight-unseen -- I've already got two that I didn't care for. But we'll see.
0 Comments: