Wednesday, October 25, 2006
Book "review"

I finished Crossing the Line by Karen Traviss and enjoyed it just as much as the first installment in this series. I wish I could do better at reviewing books and movies, but I find it difficult to articulate why I like or dislike something. I shall try anyway.
This is a good science fiction book for fantasy readers. The fact that it is set on a planet trillions of miles from earth and includes space flight, bombs, aliens, and bio-chemical warfare is really the only thing that places it in the sci-fi category anyway. I wouldn't call it a space opera, though. Humans as a species come off looking pretty bad, and the really sad thing is, I find the sequence of events quite credible. I'll be picking up the third and probably fourth books (of a predicted six total) as quick as I can, since I really want to find out how the events at the end of the book resolve themselves. A hint if you choose to read these and don't like spoilers -- don't read the blurb for the fourth book until you finish the third.
So that is my lame attempt at a book review. I could, of course, do a synopsis of the plot -- but if you're interested in that you can always find it on Amazon. Let me know what you think if you decide to read the series (which starts with City of Pearl, btw).
On the stitching front, I ended up starting Broken Angel for the SAL. Not one of my poll choices, which I feel a bit guilty about. I've got Red Dragon in mind for my next start. I didn't get as much progress done on Bubble Flower as I had hoped and have yet to take a scan. I had thought maybe I would work on it some more when I'm tired of Broken Angel since I really wanted to get to the detail of the man and horse in that upper left bubble, but not I'm not so sure. It feels like going backward to me. Silly, I know, but there it is. Here is an image of my progress on Broken Angel at the end of the SAL: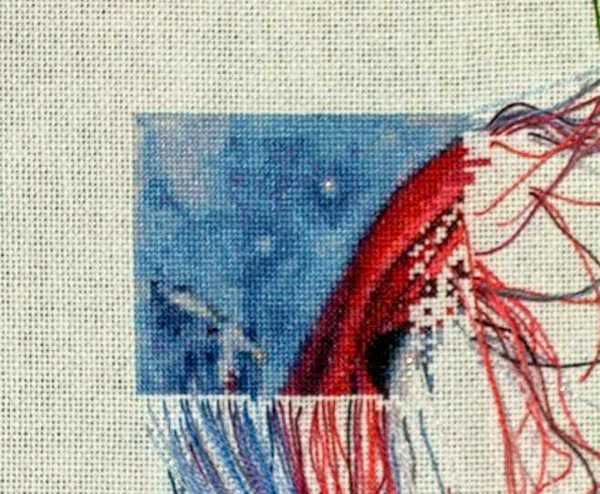 I've gotten a bit more done since this was taken and hope to finish up the top half of page one (which includes her left eye!) tonight. I might stop there and move on to Red Witch. Or I might just keep going. We'll see how much I get done tonight.
Labels: Book Reviews, Broken Angel
0 Comments: