Wednesday, April 18, 2007
May I present

Cirques des Cercles!
Finally!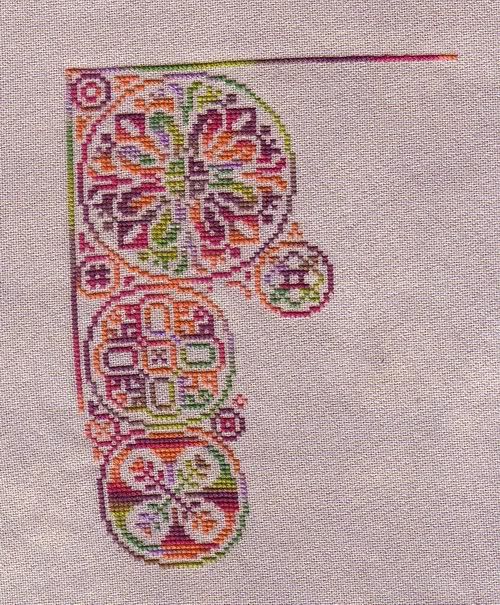 I ended up using Silk N Colors Kaleidoscope on the Precious Metals fabric from Silkweaver. I'm still not 100% sold on the color, but at least I managed to finish the first motif and then some!
I'm having a hard time figuring out how to stitch each motif so the colors flow together nicely. But then I might be expecting too much since the colors all kind of clash anyway.
I decided to skip over Angel of Frost this rotation when I found myself cleaning rather than putting her on the scroll frame! Once I came to my senses, I started on the Days of Advant Sampler. It's all good though, since I no longer have to risk broken bones simply to walk across my living room. My youngest had decided to make a fort over the weekend which ended up including all the kitchen chairs, 15 or so boxes of various sizes, and most of our video tape collection. Don't ask me what she was doing with the videos, who knows
what
she was thinking. Oh, and two or three blankets, but blankets strewn around the living room is a pretty normal occurrence.
Labels: Cirques des Cercles
0 Comments: