Thursday, May 01, 2008
My ever-so-talented son

Showing off for my son again. I think the lights were too bright (maybe because my son decided to perform rather than tech) so the quality's not the greatest but I got a kick out of this.
And here's another of my much delayed WIP pics.
Cirque des Cercles
. I'm afraid I didn't spend too much time on this one, anxious as I was to move on to Broken Angel.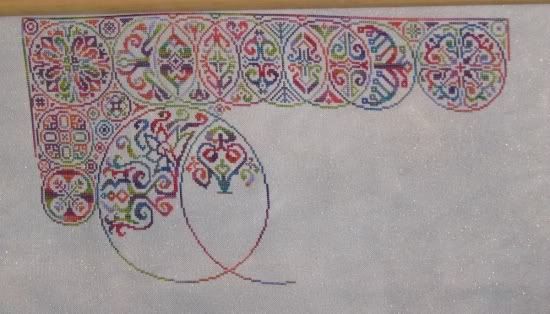 I took the Stars and Moon Baby Sampler my daughter and I stitched for her sitter's daughter in to Michaels this weekend. This is the first thing I've had framed professionally and I just about passed out when she told me the price! Needless to say, I won't be getting a matte and settled for a cheap dark blue metal frame. And it's still costing over $50. Add that to the cost of materials and we're talking about one really expensive baby gift. I really should have just gotten some onsies as suggested! But this is what my daughter wanted to do and her sitter's family certainly is her second family. And besides, it
is
stunning.
1 Comments:
Everyone is crazzy for playing online games and want to get perfect link for playing games on PC. You can free pc download games from searchengineloud.com and it gives you full version of PC games. You can easily download pc games free full version with crack.
By

searchenine loud, at 1:10 AM