Sunday, August 10, 2008
Back to work tomorrow

And I'm not exactly looking forward to it! It seems like I haven't been there forever. Fortunately, it's not the type of job where things will have piled up while I was gone.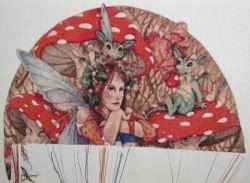 Here's a picture of
Babysitting
. I finished working on her the day before we left. I've made it past the half-way point! She should progress fairly quickly now since I'm not stitching the background and there will be less and less to stitch as I work my way down. I was a bit dismayed over the uneven edge on the right. But then I took a look at the original artwork and the circle is a bit wonky anyway so I feel better. I still may go back and try to even it out, but I'll decide whether or not to do that when I've got more done and can see how it affects the whole piece.
We had a great time at
Knoebels
. The trip up was happily uneventful and I got really good gas mileage so I was quite pleased with that. It had started to rain right before we got there, so my daughter was concerned that we wouldn't be able to go down to the park and ride the Phoenix. But the rain only lasted long enough for me to unpack the car and get settled in the cabin. So we headed down to the park and here is a picture of her waiting to ride. The line wasn't too bad (the rain had a good side effect!) so we decided to ride in the front car. As always, it was great fun!
The second picture is of her at the start of our second day. You can see the Phoenix behind her. The next picture is her on one of our favorite rides. She went on with my niece, but they weren't able to sit together. Although we discovered later that the ride staff would have asked every one to move over a seat so they could have (the staff at this park are so incredibly nice that people actually comment on it). This is the only thrill ride other than the two coasters that I rode. I have a problem with motion sickness which seems to be getting worse as I get older. But this ride is so much fun I was willing to risk it (with a liberal splash of Motion-Ease behind each ear, that is). If you're interested in seeing it in action, check out the video I took while the girls were riding. Not the best quality, but you get the idea. If you look closely, you can see my daughter waving at me at the beginning of the ride. After that I pretty much lost sight of her!
And finally, here is a rare picture of me. When I first saw it I was puzzled. I couldn't quite understand why I'd taken it and I certainly didn't recall doing it. Then I remembered I had given my sister my camera when we went on this ride and I was actually on it!
This ride is also a lot of fun but only if you want to get soaked. I was quite wet when I got off the ride and got even wetter since I caught some of the wave when the next car hit. My nephews were trying to evade my efforts to get them off the observation platform before that happened and so we didn't quite make it. It was a horribly humid day, so the water did feel pretty good!
The one bad thing was I finished the day off with huge blisters on the balls of my feet. Which made it difficult to walk the next day when we went to the pool. My sister and I are now trying to convince the others we should do the pool the first day and the park the second. In addition to being worn out from the day before, Wednesday night is bargain night so after 6 the lines get really long. My daughter even refused to wait in line for the Phoenix after that. If we went to the pool on Wednesday, we would be able to take advantage of bargain night ourselves and maybe wouldn't feel so compelled to squeeze everything in on that one day.
All in all, a wonderful relaxing vacation.
0 Comments: